Master Mindset Moncton 2017
About This Project
The event that started it all is back.
Make a positive mark on the world – from right here at home in Moncton.
These inspiring locals did it and so can you!
We are proud to present the second annual Master Mindset Moncton this fall, in partnership with our co-presenting sponsors BrainWorks Razor and NewCap Radio! Master Mindset Moncton is a celebration of the incredible minds, talents, and accomplishments present in our community. The event demonstrates that world-class experience thrives right here in Greater Moncton – and that you don't have to leave the region to reach your full potential.
We've gathered some of the most successful, influential and forward-thinking local entrepreneurs, change makers and influencers from right here in Greater Moncton to share their insights, inspirations, and secrets to success.
Our speakers will share what they believe to be their absolute most important lessons, stories and beliefs in action packed TED-style talks. Our events are known for being a bit…out of the ordinary, so expect lots of audience interaction, thought provoking content and life changing breakthroughs.
This year's speakers Include:
          
Avery McCarthur

Award Winning Entrepreneur, Artist, Influencer, Founder of Lips by Avery, 12 year old wiz kid

John Savage

Director of camp centennial – a world renowned summer camp for kids of all ages.

Jessica Kennedy

Program Manager @ Inspire NB, Mental health advocate, homeschooling success story.

Natalie Davison

Founder of Davison Strategic, Marketing Guru, Mother of twins

Cindy O'Donnell

Founder of Kini Wellness & The Zen Diva, Speaker, Coach and proud mom.

Marcel Petitpas

International speaker, Coach, Technology entrepreneur, best ping pong player at Venn.
These speakers will help you realize your full potential and demonstrate that you can create a greater impact than you ever thought possible, even though you come from a small town.
Join Greater Moncton's community leaders and innovators for an evening of personal growth, thought-provoking content, limitless possibilities and friendly networking.
See what last year's attendees had to say!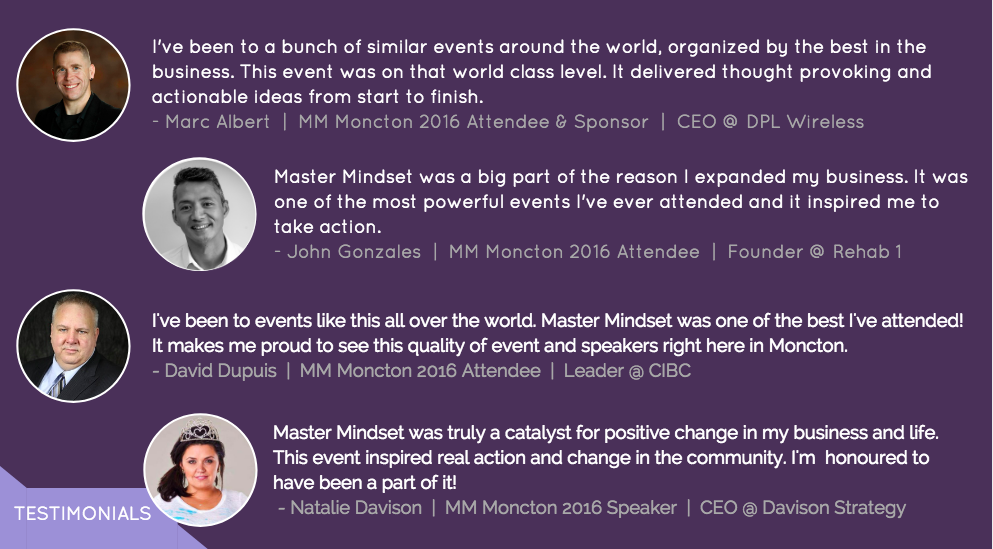 October 20th from 6pm – 10:00pm.
Doors open at 5:30, cash bar and networking to follow.
For information on sponsorship packages and bulk ticket purchases, email info@mastermindset.usor call at 506-381-5616.